Over the past few years, cycling holidays have literally been booming on the "Isle of Beauty". Road riding, leisure cycling or mountain biking; whatever level you are and whatever style you enjoy, there is definitely a holiday out there that you will love.
A destination out of the ordinary
Corsica is a hidden gem in the Mediterranean and a concentrated bundle of incredible natural beauty. It really has a bit if everything, from dominantly impressive mountains (there are 120 peaks above an altitude of 2000m), Laricio pine forests, fragrant maquis (scrub), and more than 1000km of coastline, including an abundance of golden sandy beaches, quiet coves and burning red cliffs that plunge into crystal blue waters. The island is remarkably well preserved away from the main towns thanks partly to its rugged nature.
The island is also home to many pretty little fishing villages and ports, Genoese citadels, vineyards, traditional grazing mountain pastures and a wealth of places to eat and drink and take in the views. The landscape, culture and people are truly different.
Corsica has long been the home of mountain walkers and more recently it's become the love of cyclists. Over the last few years and thanks in part to the Tour de France coming to the island in 2013, "cycling-tourism" has been growing at a rapid rate. The island is nothing less than a paradise for cyclists. The island's diversity has permitted a huge variety of cycling holidays to develop.
Lonely Planet's Epic Bike Rides of the World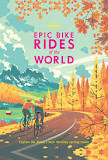 Europe Active has been listed by Lonely Planet as the provider of one of the best cycling destinations in the world, Corsica. Among some of the planet's most thrilling cycling routes in Africa, China, Patagonia, the Corsican scenic roads are plainly must-dos for the more intrepid cyclists.
Lonely Planet's Epic Bike Rides of the World, Sept. 2016
Our cycling holidays
Our leisure cycling holidays using hybrid bikes, are a wonderful way for our clients to enjoy Corsica's culture and geography at a leisurely pace. For regular road cyclists, we have a great variety of trips that allow you to explore the island whilst enjoying the challenge of the mountains; it is possible to cover the north or the south or even the whole island in the space of a week, depending upon your goals. As the Tour de France has shown, Corsica has some of the most spectacular cycling to be found anywhere in the world. More recently, we have also created some excellent mountain bike holidays. We offer all sorts of trips, including guided group holidays and self-guided holidays. In both cases, we will transport your luggage each day to your next accommodation, leaving you simply to enjoy the ride.
Why choose a cycling holiday on Corsica?
To be frank, there really is no better destination than Corsica for a cycling holiday.
With quiet back roads, hugely varied scenery, not to mention the excellent food and the unique culture, Corsica really does have it all. The climate is very agreeable, allowing cyclists to come as early as March and as late in the year as October.
As we are based in Corsica, nothing is too much trouble. We have created cycling holidays that really showcase the best of Corsica and we are always willing to create tailor made trips. We work continuously with hotels, campsites, gites and B&Bs, to ensure that we have cycle friendly accommodation.
To complete the package, we also offer a bike rental service with an excellent variety of road bikes, mountain bikes and leisure bikes.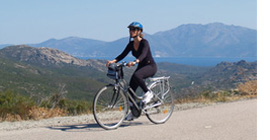 Leisure cycling